The Logitech G29 has been renowned for its reliability and price to performance to many sim racing enthusiasts. We'll be discussing why this wheel is an excellent pick for those who want to experience the thrill of sim racing without breaking the bank.
Are you in the market for a new steering wheel for your racing games? If so, I have a great recommendation for you – the Logitech G29! This wheel is absolutely amazing and will provide you with an immersive sim racing experience. It comes with everything you need to get started, including the steering wheel and pedals. It's also extremely durable and will last for years. In my opinion, it's definitely worth the money. Keep reading to find out why.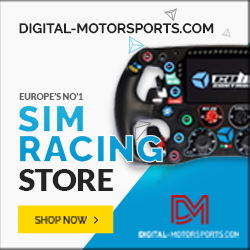 Pricing
The Logitech G29 is quite renown for its consumer-friendly pricing. Starting at just $249.99 USD, this wheel and pedal set is an amazing purchase for those who are new to sim racing and would love to experience a force feedback wheel. Whenever I get asked which wheel a starter sim racer should get, the Logitech G29 has always been my go to recommendation, given the fantastic build quality, force feedback performance and ease of setting up. Below are a few links which you can refer to, where you can purchase the Logitech G29 and the Logitech G Driving Force Shifter.
Logitech G29
Experience the Thrill of Sim Racing.
Features
This wheel has positioned itself to be one of the most consumer and budget friendly wheels on the market and by looking at all the features it offers, it's no wonder why.
Construction & Design
The wheel features sturdy material, including hand-stitched leather wheel cover, anodized aluminum wheel spokes and stainless steel shifter paddles. From a functionality standpoint, the wheel offers great customization as there are abundance of buttons that you can use to hotkey your in-game actions. The feel of the buttons replicate what you would find on a controller, so it's definitely decent in feel.
The shifter paddles have a nice clicking sound to it and it definitely has precise feedback to it. Having used it for hundreds of hours in F1 2021, a game where you need to downshift quickly, the shifters on these wheels performed very well and felt great for long sessions. However, it definitely has a cheaper feel to it compared to some of the higher-end wheels, where they have more of a tactile feel to it.
The pedals also feel premium in construction as it features steel construction on the pedal frames, arms and face. The Logitech G29 pedals are a fantastic choice to race in almost any racing game, given the nonlinear brake pedal. This means that, it mimics the performance of a pressure-sensitive braking system for a more responsive and accurate braking feel. Additionally, the great thing about the pedal set is that it comes with 3 pedals – clutch, brake and throttle. You'll be ready to play all your favorite games, whether it's drifting or racing. These pedals are also mountable to most sim rigs, as it contains screw holes at the bottom of the frame. This makes it a great choice for those who don't have carpet at home.
Force Feedback
The dual-motor force feedback generates around 2.1 Nm of torque which is decent. If you are kick starting your sim racing journey and want to experience a wheel that has force feedback, then the Logitech G29 is an excellent choice for you as it will still pack a punch if you have the settings fine-tuned. There are many advantages of having a wheel that gives you force feedback. Having the ability to monitor the performance of your car in real-time including, understanding the limits of your tire performance and the change in terrain is the crux of sim racing. Without force feedback, it is almost impossible to drive consistently as you won't be able to feel the limits of your car.
One of the issues I found with the force feedback is that it can be quite loud, especially when you hit the curb or go off track. However, given that the Logitech G29 operates on a gear-driven system, this is normal. If you're looking for a wheel with strong force feedback, we definitely recommend the Fanatec Direct Drive ecosystem. We've done an in-depth review of the Fanatec CSL DD, which you can find here.
Integrated Mounting and Connectivity
One of the best features of the wheel, is the integrated mounting right out the box. The integrated mounting clamps and fastens the wheel tightly to your desk or sim rig through the included fastening knobs that are pre-installed out the box. From a stability perspective, the mounting works great even on a thin IKEA table. No complaints at all with this!
The connectivity of the wheel is also fantastic. To use the Logitech G29 pedals, you will need to plug in the connection directly to the wheelbase. For extra peripherals to be added, including the external shifter, you will also need to plug this to the wheelbase as well. The wire connections are well labeled, so you won't have any issues finding which port to plug the wire to. However, it's important to note that both the power and pedal connectors will need to be securely connected to the wheelbase, or the force feedback function will not be engaged.
One of the limitations with integrated connectivity is that the pedals and external shifter cannot be used unless the wheel base is connected. This is because all the wire connections go directly through the wheelbase. This means that if you wish to upgrade your Logitech wheel and keep your pedals or external shifter, you will not be able to do so. It's a shame that Logitech didn't offer the option to connect the pedals and external shifter directly to the PC or console.
Software
The Logitech G29 can easily be fine-tuned and adjusted via the Logitech G Hub software. This is a great software if you have other Logitech gaming products. In this software, you will be able to adjust multiple settings including wheel sensitivity, operating range (0 – 900 degrees) and centering spring strength for the wheel. You will also be able to change the button assignments to your desired setting. Furthermore, you will also be able to adjust your throttle, brake and clutch sensitivity as well. Overall, it's a fantastic application that's easy to use and gets the job done quickly.
Customization
From a customization standpoint, the Logitech G29 is quite limited from a proprietary upgrades standpoint. You can't change anything on the wheel from the Logitech website. Contrary to Fanatec, where you can the shifters, button caps, etc. of the wheel. However, there are definitely an abundant aftermarket solutions that you can choose from. If you wish to have your G29 look like a Formula-style rim, head over to Acelith, an aftermarket modification website for many brands including Logitech, Fanatec and Thrustmaster.
Compatibility
The Logitech G29 is fully compatible with PC, PS5, PS4 and PS3. If you have an Xbox, you will need to get the Logitech G920!
The Logitech G920 is fully compatible with PC, Xbox Series X|S and Xbox One.
There is very subtle difference between the G29 and G920. If you are planning to use it solely on the PC, then I would recommend going with the G29 as there are a few more buttons available, meaning you can assign these keys to additional commands. Additionally, the G29 also features an LED RPM light, which might be a neat feature to most.
Verdict
So, if you're looking for a great racing wheel and don't want to break the bank, the Logitech G29 is a fantastic choice. It has everything you need to feel like a legitimate sim racer, including good force feedback, high-quality construction and great out of the box mounting. If you have been on the fence about upgrading your old wheel or buying your first one, now is definitely the time to consider the Logitech G29! Alternatively, if you're looking for a direct drive wheel base, then we recommend the Fanatec CSL DD Wheel Base!